Introduction
Vision
To set up benchmarks in training and practice of Panchakarma.
To focus on research in Panchakarma for generating evidence.
To provide quality care and standard treatment through Panchakarma.
To involve with institutes of national and international repute for collaborative work in research and training.
Location and Services – Outlook
The department of Panchakarma (Bio cleansing) is a clinical department imparting its services under three major domains viz. hospital, academic and research activities. In addition to these, the department is actively involved in all the institutional curricular and co-curricular activities. The academic wing of Panchakarma is housed on the seventh floor of the academic block with 7 rooms and a skill lab (4 rooms for faculties, one office room, one seminar cum lecture hall and one room for establishing skill lab). The department has a reference library with more than 200 books. For clinical training of scholars, the department is having OPD facility involving Panchakarma clinic and speciality OPDs, allotted beds in the hospital and Panchakarma Theaters across each floor of hospital.
Panchakarma is the core strength area of Ayurveda. An area that is interlinked with every other speciality of Ayurveda. Treatment in Ayurveda Principles is divided into three cadres, namely Yuktivyapashraya, Satwavajaya and Diavavyapashraya which deals illnesses to be rectified in a physical, mental and spiritual level. Among Yuktivyapasharaya treatment Ayurveda interferes with two basic modes of management. And that includes Shamana and Shodhana, Shamana refers to palliative care, where in the disease is managed by controlling the symptoms expressed through medications and avoiding causative factors (OPD based internal medications and diet life style advises). Where as Shodhana Stands for five purificatory therapies meant for intense level cleansing of the body. Some diseases are chronic, recurrent and extensive in nature they require deep level cleansing process through Panchakarma. Panchakarma consists of five major procedures such as Vamana (Therapeutically induced emesis) Virechana (Therapeutically induced purgation), Basti (Therapeutic enema – oil and decoction based),Nasya ( Therapeutic nasal medications) and Raktamokshan (Therapeutic blood letting) meant for deep level purification to bring back equilibrium to deranged body state. Apart from this more than 100 other para Panchakarma Procedures are practiced in the department of Panchakarma to provide effective management for any disease by following Ayurveda principles strictly.
Panchakarma Facilities at AIIA
All India Institute of Ayurveda (AIIA), has one of its kind largest set up of Panchakarma facilities in India. Vast and fully equipped Panchakarma theatres spread across the institute covering all the five floors of hospital block. Panchakarma at AIIA is NABH accredited with Standard operating protocols followed for each procedure adopted with utmost care and devotion.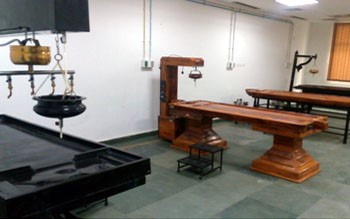 There are specialized set ups (Theatres) for treatment procedures done on daily basis on Patients as per the expert consultation of specialist Panchakarma faculty. There are more than 50 varieties of Panchakarma therapies tailor made to suit the needs of each and every individual so as to restore their normal health status. Every ward of AIIA hospital is designed with easy and nearby access to Panchakarma theatres. Standard level of hygiene and quality of treatment is assured throughout the theatres along with the special care and specific food (pathya) to be provided during the treatment. Separate set up of treatment areas for VIP patients are also a specialty of Panchakarma over here. Male and female patients have separate Panchakarma theaters and trained technicians. Suite rooms cater the needs of the individual who demands customized personal care, where the Panchakarma procedures are also performed at the specific rooms where they are admitted which is fully equipped. Panchakarma facility is also available in super speciality areas like – Pediatric Panchakarma, Gynaecology Panchakarma, KriyaKalpa (procedures for Eye and E.N.T disorders) Well trained, experienced and well behaved technicians who are trained by All India Institute through the one year Technician course conduct the procedures under the direct supervision and directions of specialist Panchakarma Doctors. Fully automated equipment's and most advanced technology keeping intact the age old principles of vedic science are the uniqueness of countries premier institute of Panchakarma.