Community Outreach Health Camps
Department of Kaumarabhritya extended its services in the following Medical camps organized by various NGOs:
Swarnaprashana Paramarshana Camp at Ramlila Grounds, Ghaziabad, 01–07 November, 2019
Swarnaprashana Camp at Oswal House, Jhilmil, Shahadra on 05.01.2020.
Ayurvedic Upachar par paricharcha evam Nishulka Janch Camp at Faridabad on 11th August, Department scholars actively participated in the patient awareness lecture program under the Patient Education Cell activity of the institute.
Children's day celebrations 2019:
Department of Kaumarabhritya, All India Institute of Ayurveda (AIIA), New Delhi Celebrated Children's day on 14th November 2019. Various competitions such as colouring, painting etc. were arranged for children in different age categories. Programme was inaugurated by Director, AIIA and Children below 16 years of age actively participated in the event.
The department of Kaumarabhritya (Ayurveda Paediatrics) organizes the Children's Day on 14th November, since 2017. Various programs that highlights the creative mind of young children are arranged on this day and all the participants are rewarded with appreciation certificate and some refreshments, the best performers are also rewarded with prizes. It has been observed that this program is received well by the children as well as parents who attend the hospital services.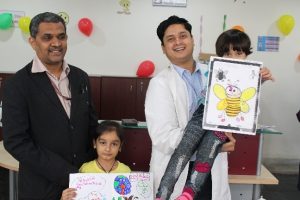 We are updating, Coming very Soon
We are updating, Coming very Soon