Academic
HOSPITAL ACTIVITIES:
Department is providing its clinical services twice a week (Tuesday and Friday)
POST GRADUATE RESEARCH PROJECTS:
Presently total 12 post graduate research projects are going on in the department
DEPARTMENTAL FACILITIES:
1- CRUDE DRUG MUSEUM:
Crude drug museum   is developed   by collecting genuine and market drug samples from  different places . Various samples were collected during the educational visits to various herbal gardens and crude drug museums. The drugs are also arranged  according to  50 Mahakashaya of Charak Samhita.
2- PHARMACOGNOSY LAB: 
Pharmacognosy laboratory of the department has been developed in accordance with the norms of an adequate laboratory suitable for various scientific procedures like microscopic-macroscopic study of fresh plants and crude drugs, phytochemical studies, constituent study, plant identification, adulteration studies etc.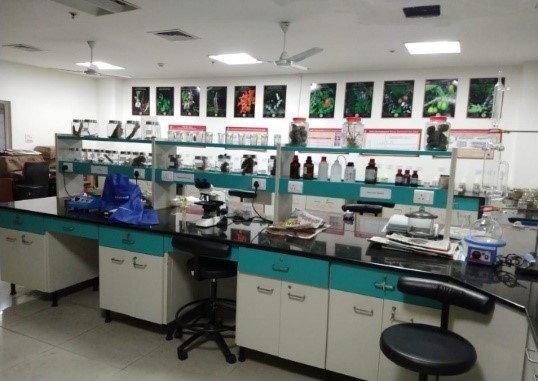 VANOSHADHI VATIKA: 
For demonstration and identification of medicinal herbsa Vanoshadhi Vatika is developed at AIIA. Presently the garden is having about 150 species of medicinal herbs. The garden is continuously enriched by various more species of the plants collected during educational visits.The Garden is having various important like, Bakuchi, Vacha, Rakta Chandana, Vijaysaar, Krishna Tinduka, Stevia etcThe plants were procured by Herbal garden of Patanjali Yogapeeth and Susheela Devi Nursery, Dehradun and BHU medicinal plant garden . Plantation drives were made from time to time